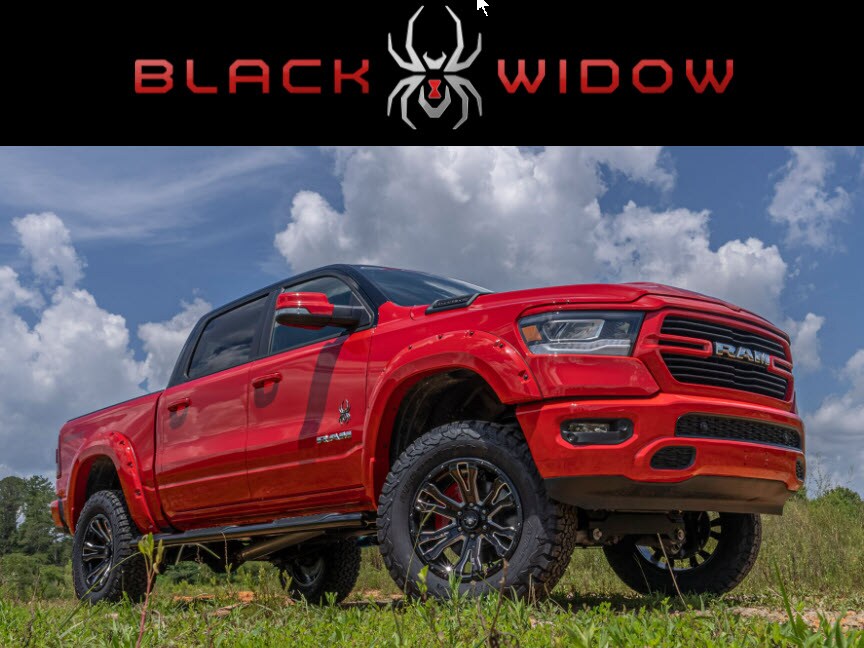 Lifted Trucks - An Exhilarating Off-Road Experience
Many dream of the true off road experience but never take their vehicles off the asphalt roads into the great outdoors.  Some find solace in ATV's but the true off roader dream is to take their lifted truck or SUV into the wild.  In order to do that you need to be prepared.  One should prepare for terrain and time out with supplies and safety gear but you also need to make sure your truck is ready for the journey.  You need to consider things like ground clearance, power, traction control, and even added gear like winches and hooks should you need them.
Black Widow - RAM Pickups
Owning a lifted truck with the proper upgrades can allow you the experience of a lifetime.  Lift kits and upgraded suspension and tires are just the beginning.  Elmwood has teamed up with the best in the business and outfits their RAM trucks with the legendary Black Widow performance package.  We outfit RAM trucks with 6 inch BDS/FOX suspension lift kits and BF Goodrich 35 inch tires. Most of our lifted trucks come with special leather interiors and foot/puddle lights.  Automatic deployable side steps and panoramic sunroofs help riders with the full visual experience and make life a bit easier getting in and out during your adventures.  
Lifted Truck Accessories
Some of these powerful trucks are outfitted with winches and hooks in case the driver challenges mother nature and she pushes back a bit more than expected.  Other add-ons can be purchased to further enhance the off-road experience.  Engine air kits for deeper water, flood lights for your cargo area, and rugged grill guards with winches are just a few examples!  This example image just happens to be mounted on a lifted Jeep but you get the idea.  Plenty of accessory options are available.