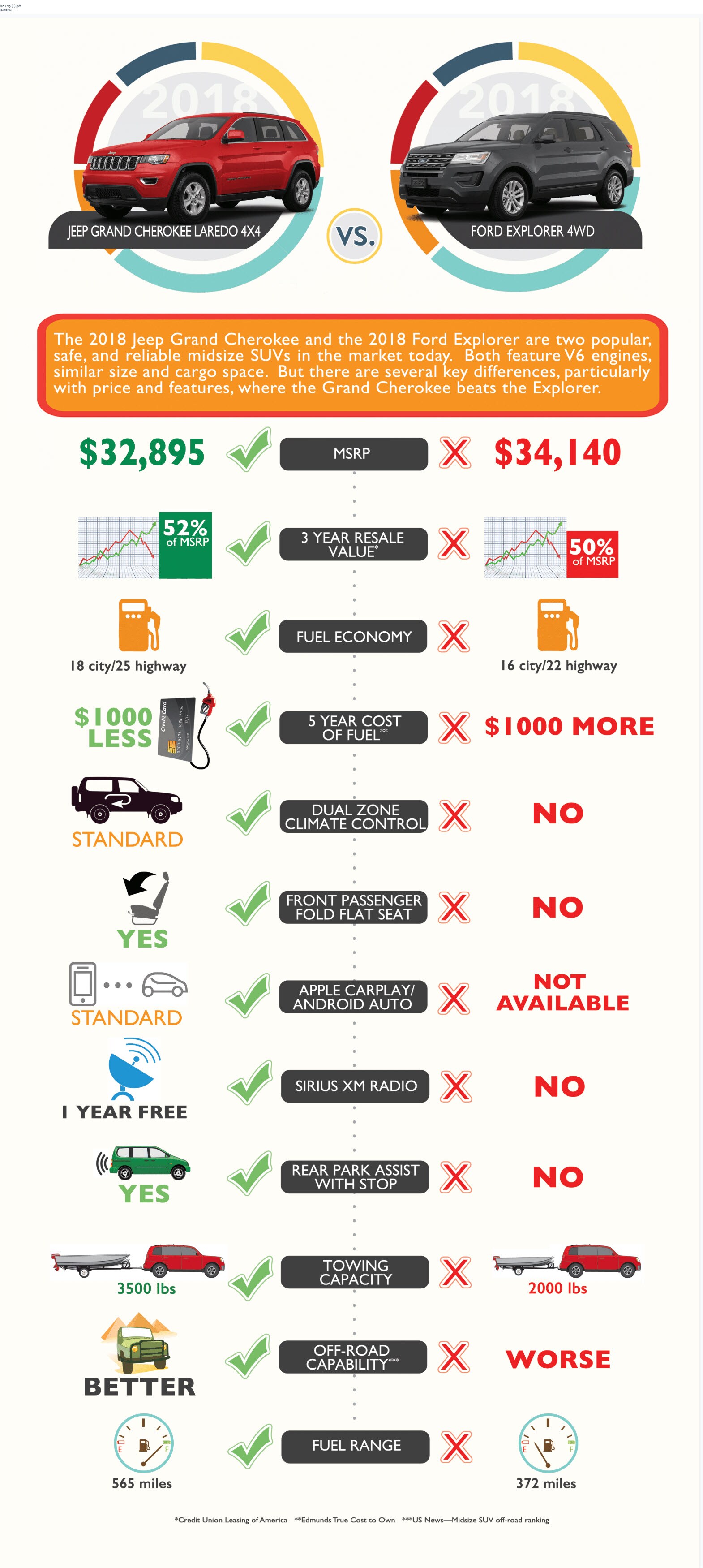 Key advantages of Jeep Grand Cherokee compared to Ford Explorer
     The 2018 Jeep Grand Cherokee and the 2018 Ford Explorer are two popular, safe, and reliable midsize SUVs you may be comparing. They provide similar size, engines and standard features.  But there are a number of key differences where the rugged yet fuel efficient Grand Cherokee beats the Explorer.
     Comparing similar trim levels, the MSRP on the 2018 Grand Cherokee Laredo 4x4 comes in at about $1,200 less than the Explorer 4wd.  And the Grand Cherokee will be less expensive over the long run.  It holds its value better than the Explorer.  It'll be worth more in 3 years.  You'll also save money at the gas pump with better fuel economy, plus, you'll go a lot further on a tank of gas.  The Grand Cherokee comes standard with dual zone climate control.  Also, it has a very handy front passenger fold flat seat where the Ford Explorer does not.  And the Grand Cherokee comes standard with Apple CarPlay and Android Auto.  Another standard feature not found on the Explorer is Rear Park Assist with Stop.  Finally, you can tow a lot more with the Grand Cherokee, and it's also much better equipped to go off-road because Jeep is in its DNA. 
    

These are just some of the key advantages of the 2018 Jeep Grand Cherokee for you to consider.

 

For more information, visit your local dealer.
Make an Inquiry
Hours
Monday

08:30AM - 07:00PM

Tuesday

08:30AM - 07:00PM

Wednesday

08:30AM - 07:00PM

Thursday

08:30AM - 04:00PM

Friday

Closed

Saturday

08:30AM - 05:00PM

Sunday

Closed